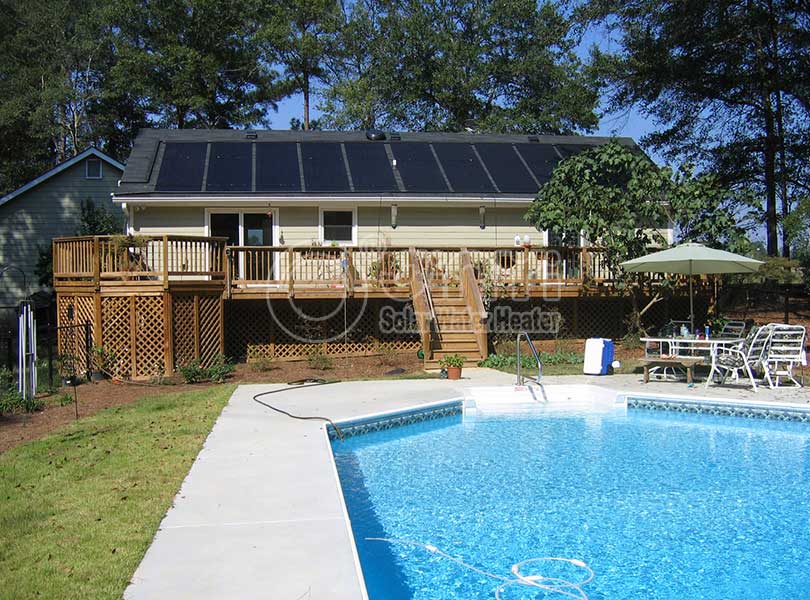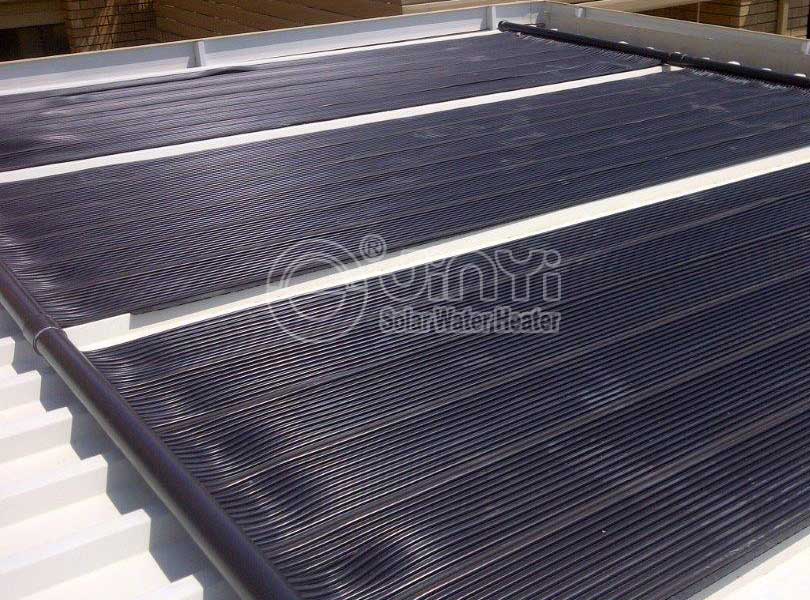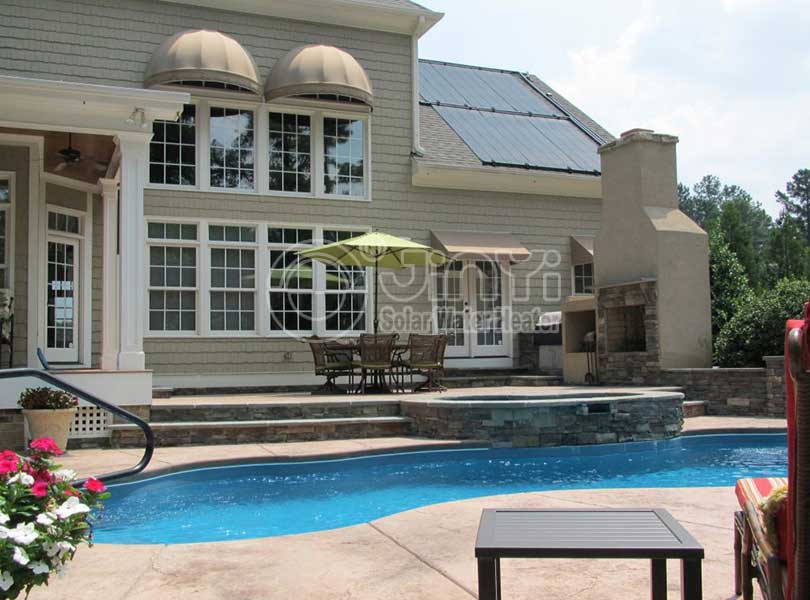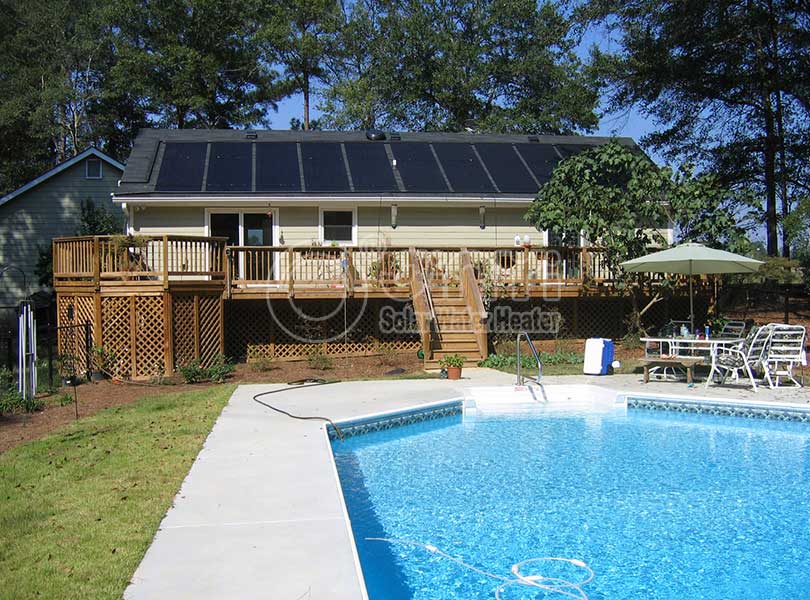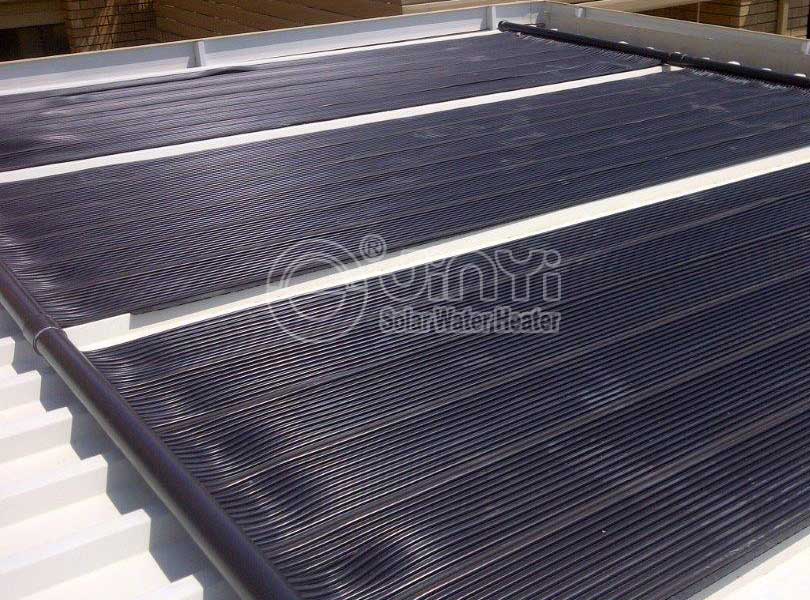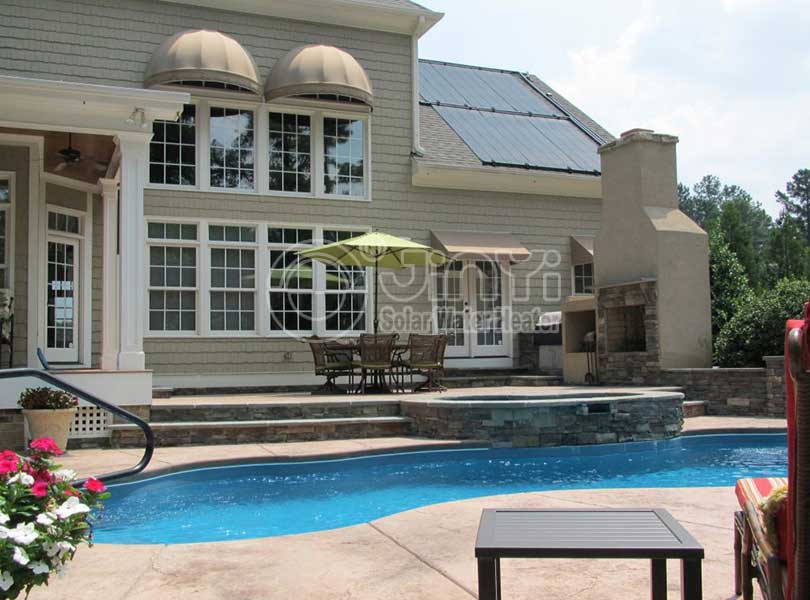 Pool Heating Solar Collector
Pool heating solar collector working principle:
Pool heating solar collector are installed on roof in a sunny position. Pool water is pumped through hundreds of tubes in the collectors where it absorbs the solar energy. This heated water is then returned to the pool for your enjoyment.
Pool heating solar collector characteristic:


● Ethylene-Propylene-Diene Monomer(EPDM) material, light and chemical inert.
● High efficient. modular and rigid with individual tubes running lengthwise.
● EPDM exhibits outstanding resistance to heat, ozone, steam and weather.
● It is an electrical insulator.
● EPDM material temperature resistant from -40℃ to 120℃.
● Can be mounted on any type roof.
● Simple installation.
● Panel size 1.33mx3m.
● UV-resistant, long service life.
● Combined System: can work in conjunction with other heaters such as Gas, Heat Pump or Diesel.
Why EPDM(Ethylene-Propylene-Diene Monomer) solar pool heating collector?




1.Aging resistance


Ethylene propylene rubber has excellent weather resistance, ozone resistance, heat resistance, acid and alkali resistance, water vapor resistance, color stability, electrical properties, oil filling and room temperature fluidity. Ethylene propylene rubber hose can be used for long time at 120 degrees centigrade and can be used briefly or intermittently at 150-200 degrees Celsius.


2.Corrosion resistance


Due to the lack of polarity and low unsaturation, ethylene propylene rubber has good resistance to various polar chemicals such as alcohols, acids, bases, oxidants, refrigerants, detergents, animal and plant oils, ketones and lipids, but is less stable in grease and aromatic solvents (such as gasoline, benzene, etc.) and mineral oils. Under the long-term effect of concentrated acid, the performance should also decrease.


3.Heat resistance


EPDM ethylene propylene rubber has good superheat resistance, but it is closely related to all vulcanization systems. The ethylene propylene rubber with two sulfurized two morpholine and TMTD as vulcanizing system was soaked in 120 degree superheated water, and the mechanical properties changed little. The volume expansion rate was only 0.3%.
How the pool heating solar collector works?
Recommendation list
| | |
| --- | --- |
| Pool size | Solar pool heating collector, 1.33mx3m |
| 3mx6m | 4unit |
| 4mx7m | 6unit |
| 5mx10m | 10unit |
Parameter table:
| | |
| --- | --- |
| Model | JPHC-4 |
| Size | 1.33mx3m |
| Solar area | 4m2 |
| Material | EPDM |
| Test pressure | 1Mpa |
| Working pressure | 0.6MPa |
| Recommendation flow rate per m2 | 10L/min |
| Weight(dry) | 9Kg |