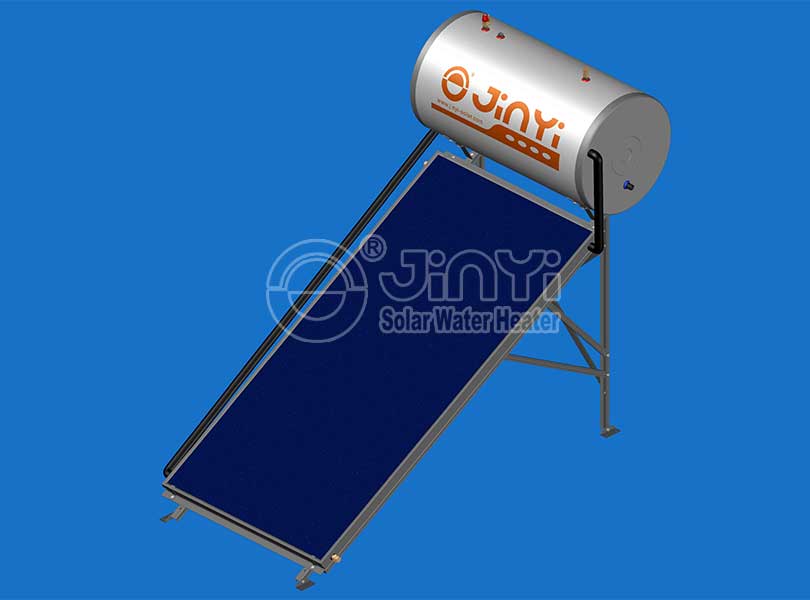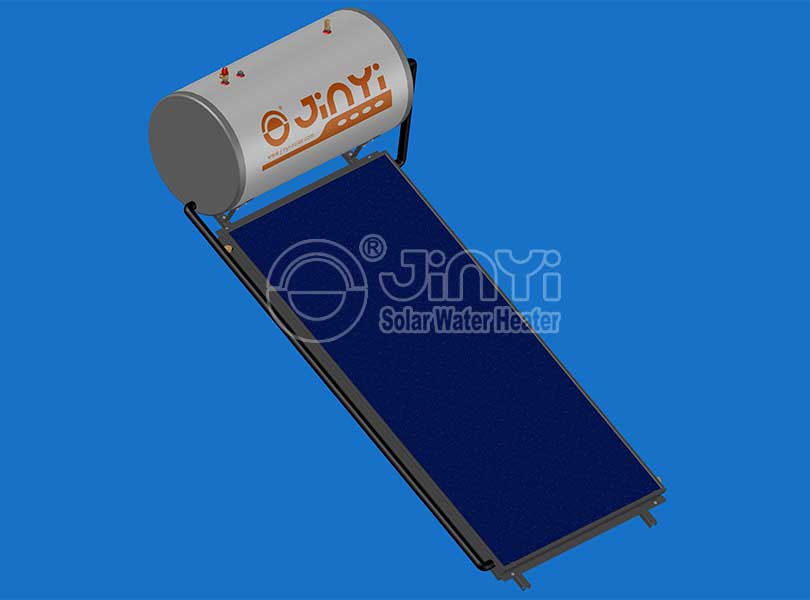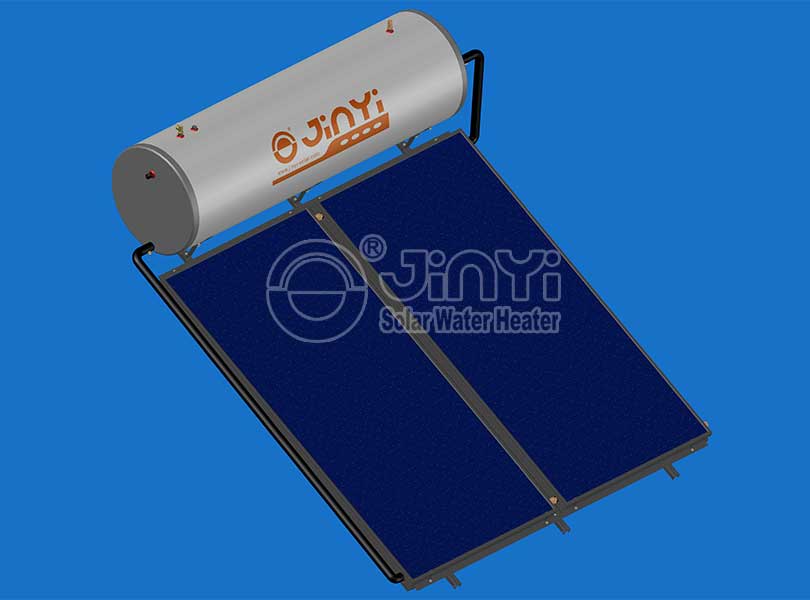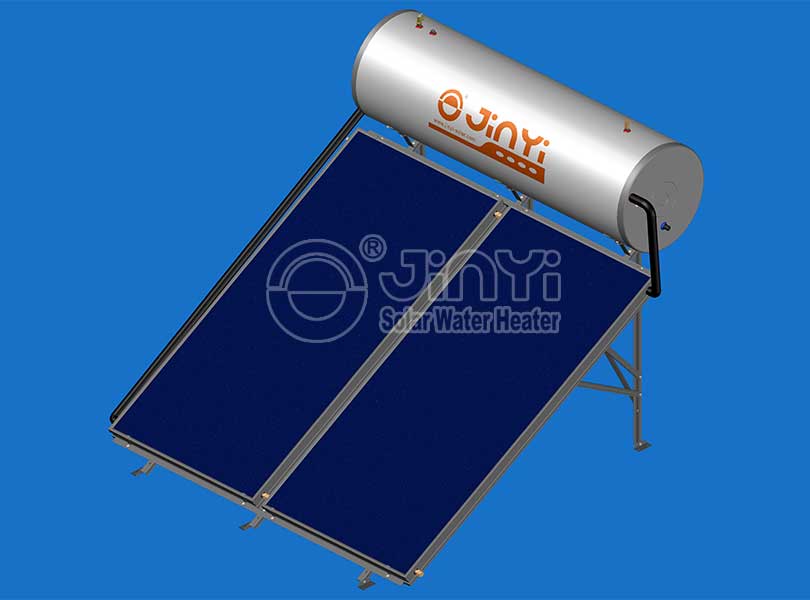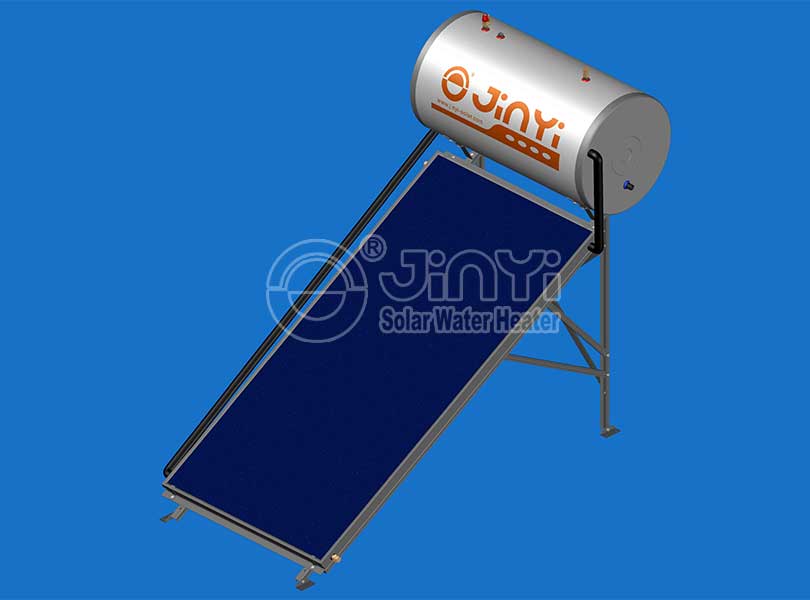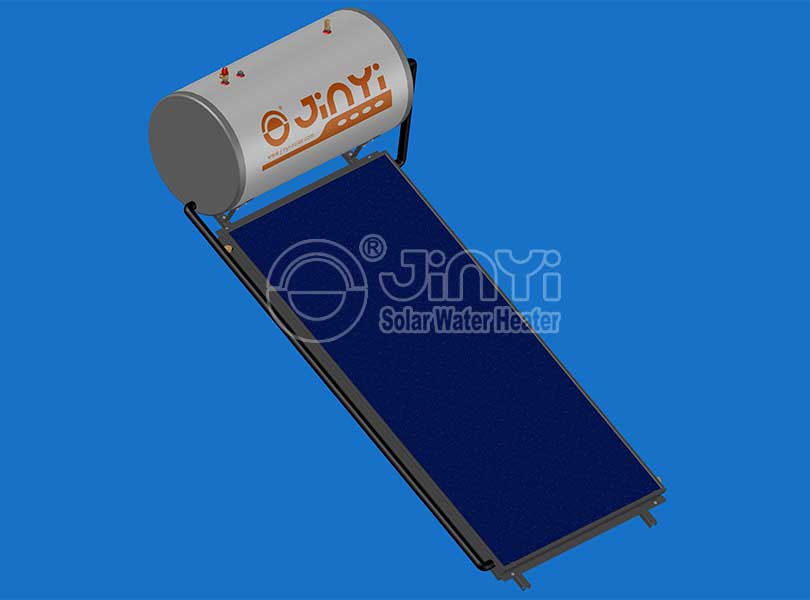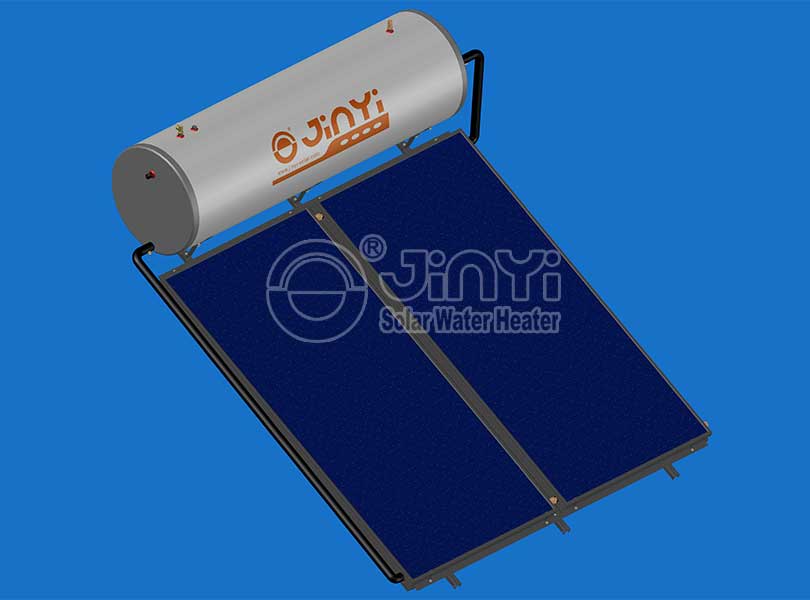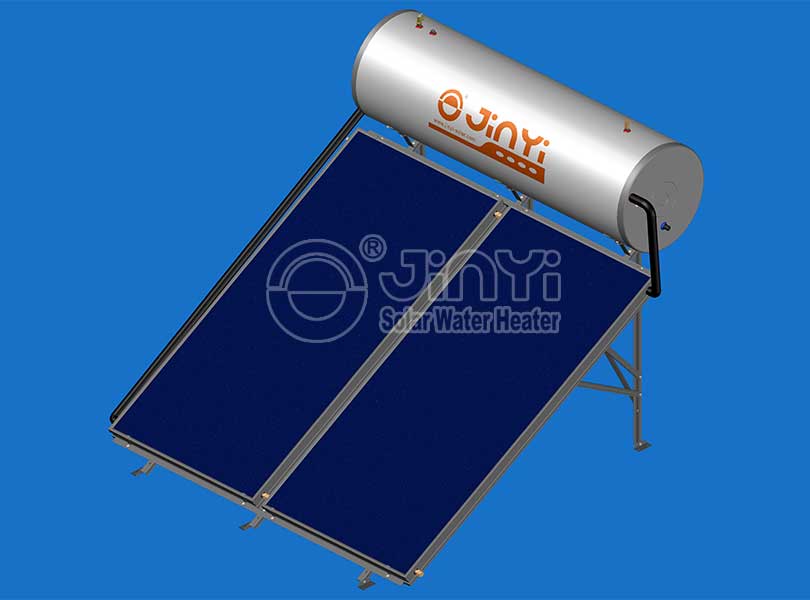 Indirect Flat Plate Solar Water Heater
Indirect flat panel solar water heater working principle:
The flat panel solar collector absorbs solar energy. The low-iron content solar glass allows more solar energy to pass through. In the closed circuit system, heat is absorbed by the flat panel collector and passed to the heat transfer liquid inside the flat panel solar collector. As the temperature of the liquid increases, the hot fluid rises up through the collector by the natural thermosiphon principle, flow into the heat exchanger jacket around the water tank. Here, the heat is transferred to the water, cooling the fluid. The cooler fluid is then forced back down into the collector through the displacement action of further hot fluid rising up into the heat exchanger jacket. The cooler fluid that has been forced down is again heated in the collector and rises back up to pass the heat to the water in water tank. This circulation repeats until all water in the storage tank heated.
Indirect flat
panel
solar water heater characteristic:
1. Closed circuit double jacket design, the large jacket area where heat is exchanged makes the Jinyi indirect type solar water heater more efficiency.
2. Enamel inner tank, protects the product from corrosion, scale and frost.
4. Multifunctional bracket for both flat and sloped roof installation.
5. Withstanding high pressure (0.6MPa), comfortable shower.
6. Suitable for cold area, even reach to -40℃.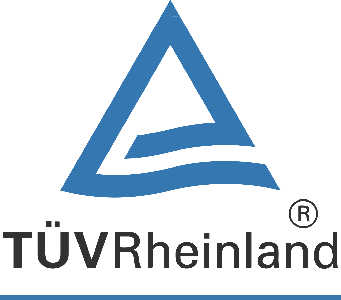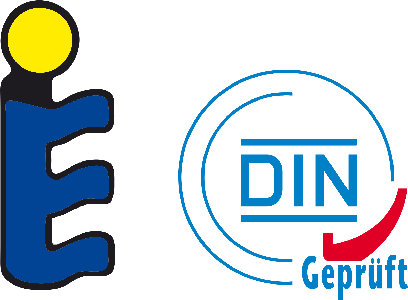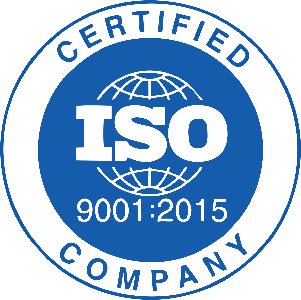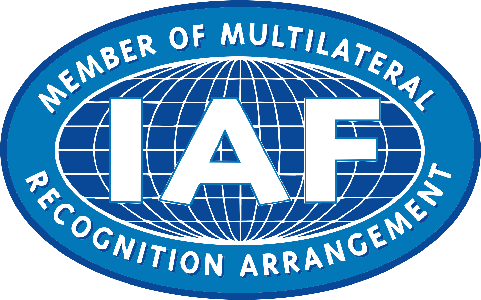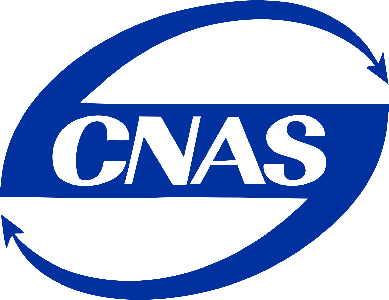 Indirect flat panel solar water heater Key Components: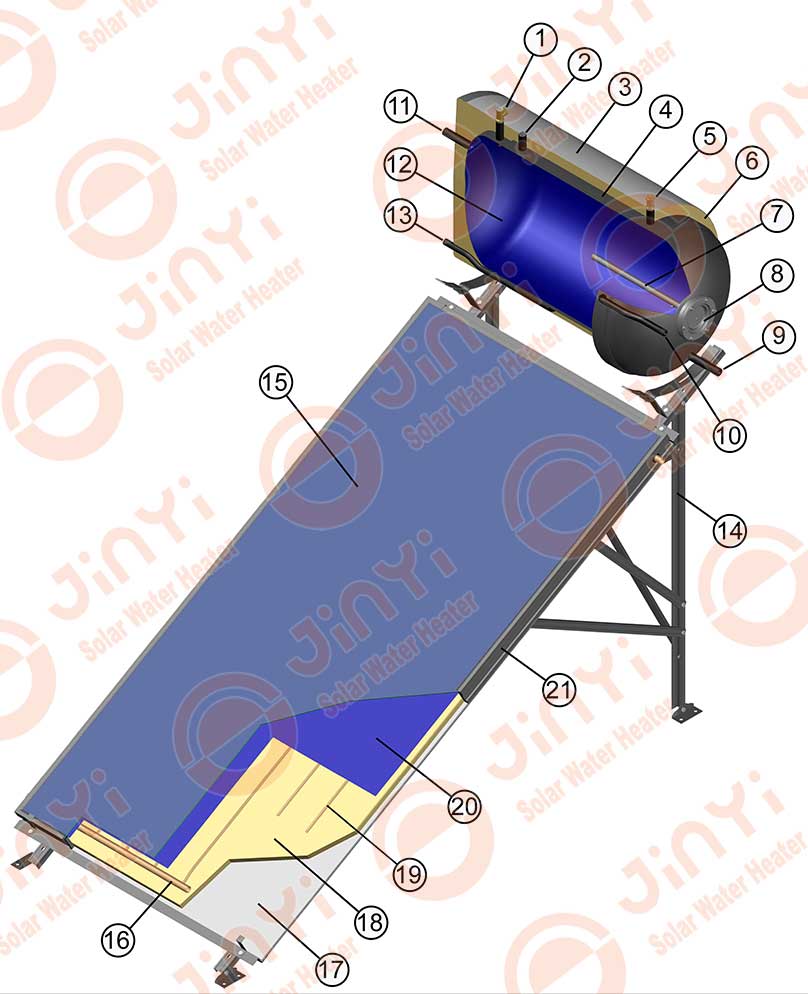 ① T/ P Valve ② For filling ③ Outer tank ④ Jacket ⑤ For filling (Safety valve) ⑥ Insulation layer ⑦ Magnesium rod ⑧ Inspection flange ⑨ Cold water inlet ⑩ Circulation outlet ⑪ Hot water outlet ⑫ Inner tank ⑬ Circulation inlet ⑭ Support ⑮ Tempered glass ⑯ Header tube ⑰ Back sheet ⑱ Insulation layer ⑲ Riser pipe ⑳ Absorber plate

21

Frame
Indirect flat
panel
solar water heater specification
1. Inner tank and Jacket: enamel carbon steel.
2. Outer tank: Galvanized steel.
3. Insulation layer: Polyurethane foam.
4. Support: Painted galvanized steel.
5. Flat plate solar collector: 2/2.5
m
2
size, blue titanium coating.
6. Working pressure: 6 Bar; Testing pressure: 10 Bar.
Model

Tank capacity

Absorber Area

Person No.

Loading Qty. (set)

(L)

(m2)

40GP

40HQ

JFP-160E

160

2

3

95

105

JFP-200E

200

2.5

4

88

96

JFP-250E

250

4

5

62

68

JFP-300E

300

4

6

52

60

JFP-300E/A

300

5

6

52

60
Necessary Accessories:
Temperature & Pressure relief valve
- Used for tank pressure release
- Working temperature: 90℃
- Working pressure: 8 Bar

Check valve
- Used for control one-way flow and prevent water from flowing back.
- Material: brass.

Item No.
Size
Quantity
Item No.
Size
Quantity
812 007 067
1/2 inch
1 unit
812 007 002
3/4 inch
1 unit

Magnesium rod
- Used for tank protection
- Φ22 x 300mm length

Insulated pipe
- Pipe: Corrugated stainless steel
- Insulation pipe
- Connection size: 1/2 inch

Item No.
Size
Quantity
Item No.
Size
Quantity
812 801 002
3/4 inch
1 unit
812 007 053
1/2 inch
2 units

Air Vent Valve
- Used for jacket pressure release
- Material: Brass
- Working pressure: 2 Bar

Plug
- Used for jacket
- Material: Stainless steel SS304-2B

Item No.
Size
Quantity
Item No.
Size
Quantity
812 007 033
1/2 inch
1 unit
812 010 034
1/2 inch
1 unit

Brass elbow
- Material: Brass
- Connection size: DN22 ×1/2 inch

Brass elbow
- Material: Brass
- Connection size: 1/2 ×1/2 inch

Item No.
Size
Quantity
Item No.
Size
Quantity
812 002 805
1/2 inch
2 units
812 002 806
1/2 inch
2 units

Coupling
- Used for flat collector
- Material: Brass
- Connection size: DN22 x DN22mm

Plug
- Used for flat collector
- Material: Brass
- Connection size: DN22mm

Item No.
Size
Quantity
Item No.
Size
Quantity
812 010 004
DN22 mm
0 / 2 units
812 010 042
DN22 mm
2 units
Optional Accessories:
Thermostatic mixing valve
- Material: Nickle plated brass
- Cold water temperature: 5-29℃
- Hot water temperature: 50-95℃
- Regulating temperature: 35-55℃
- Working pressure: 0.03-1 Mpa

Expansion vessel
- Capacity: 18/24/60 L
- Max. working pressure: 10 Bar
- Working temperature: -10~90℃
- Pre-charge: 2 Bar
- Connection size: 3/4 inch

Item No.
Size
Quantity
Item No.
Size
Quantity
812 007 052
3/4 inch
1 unit
812 003 012
3/4 inch
1 unit

3 way valve
- Material: Brass
- Connection size: 3/4×3/4×3/4 inch

Controller (economic version)
- Used for pressure solar water heater
- Automatic operation
- Water temperature display
- Intelligent control electric heater

Item No.
Size
Quantity
Item No.
Voltage
Quantity
812 000 027
3/4 inch
1 unit
812 007 007
110V/ 220V
1 unit