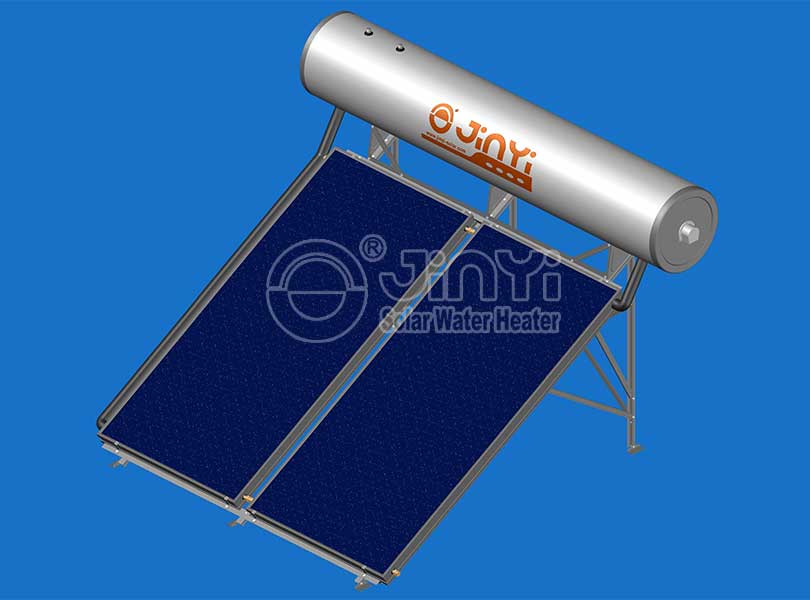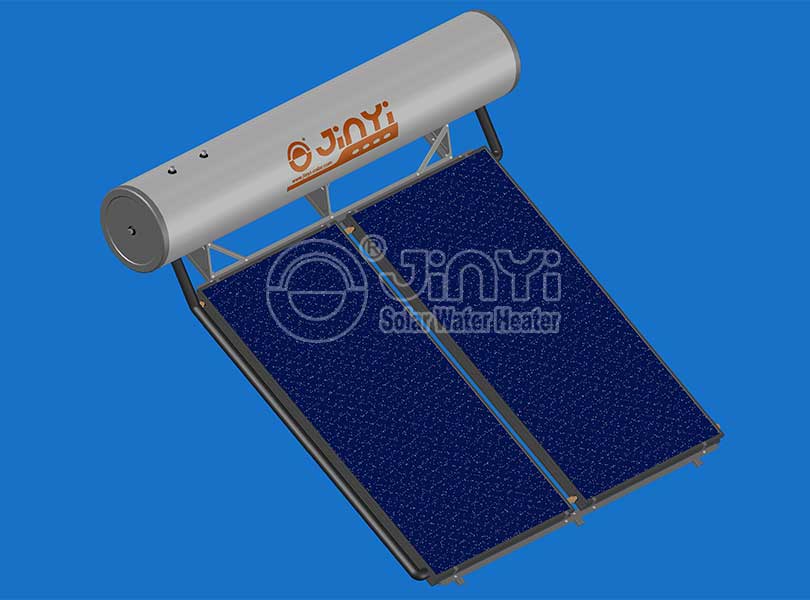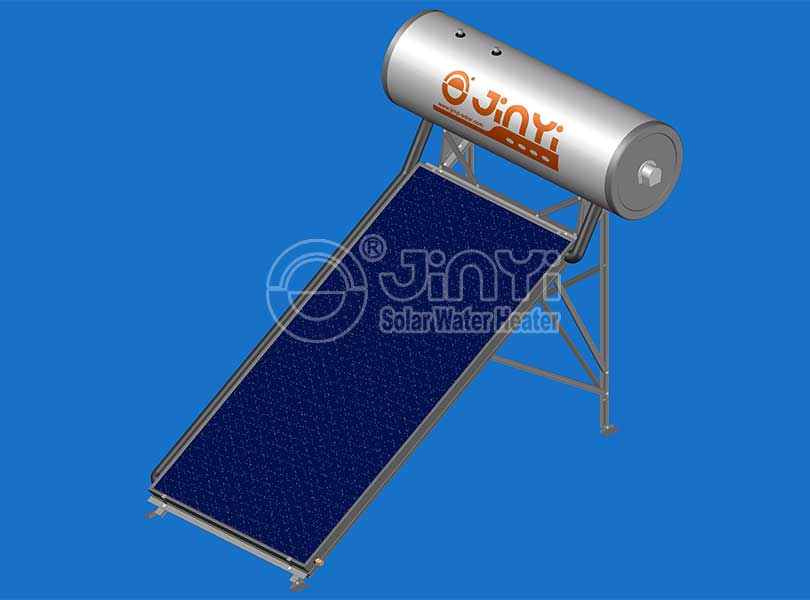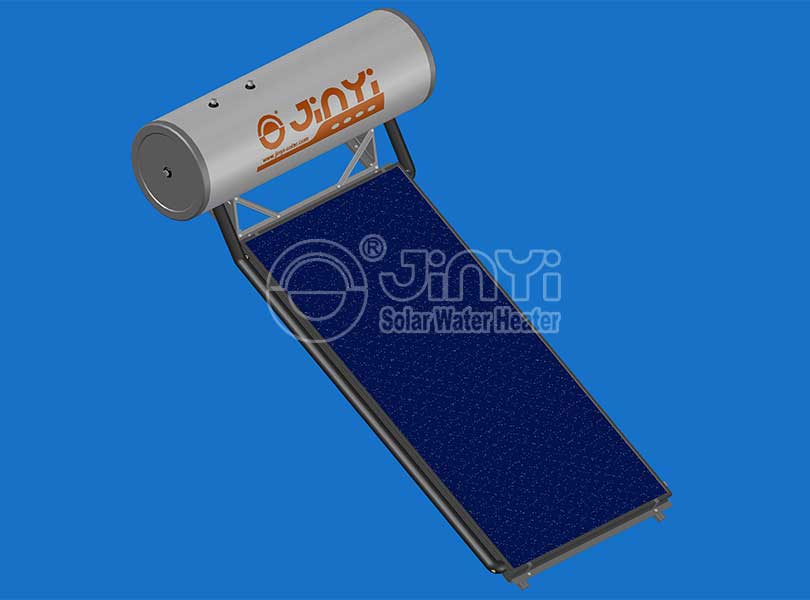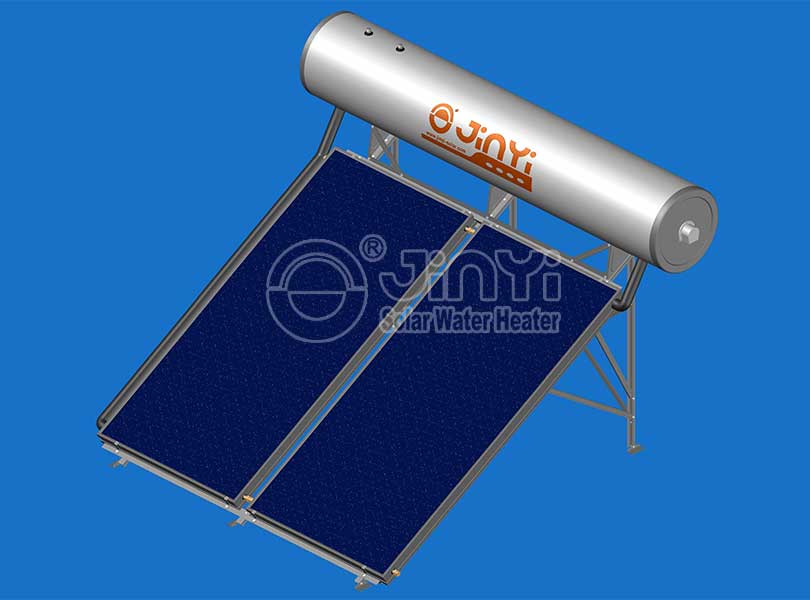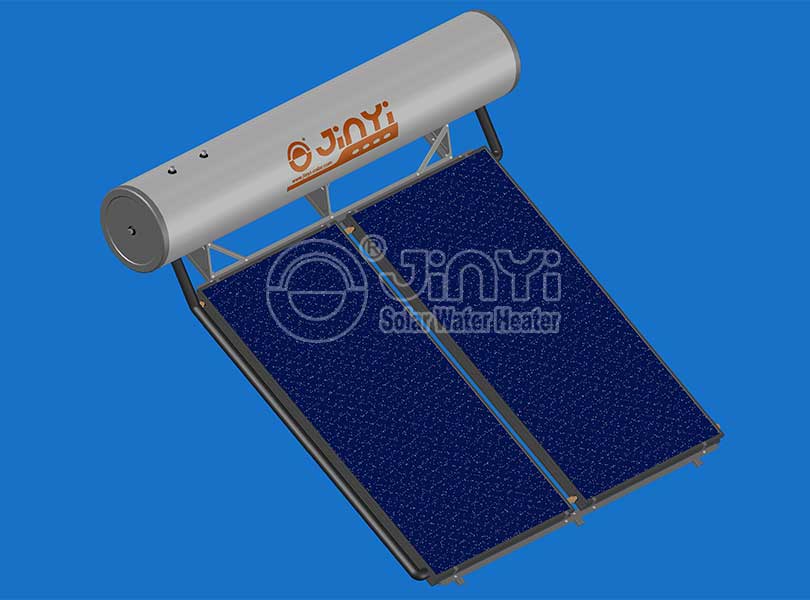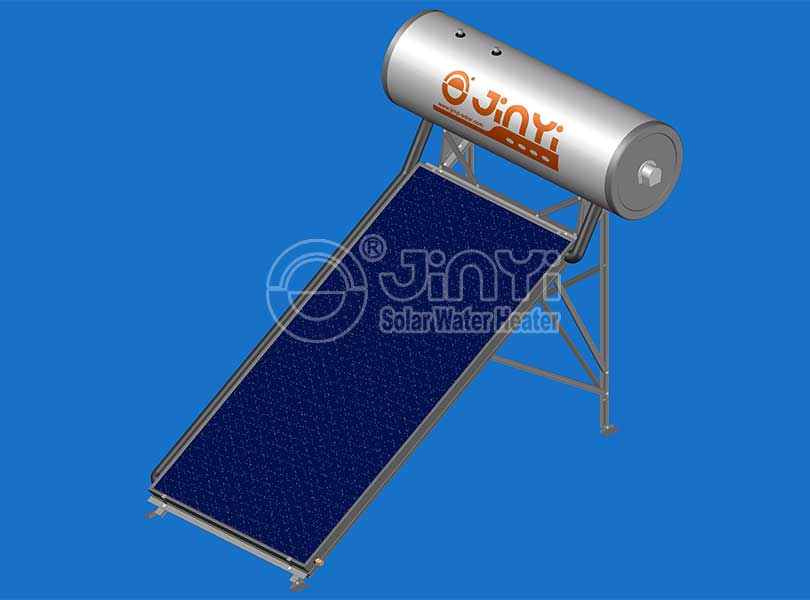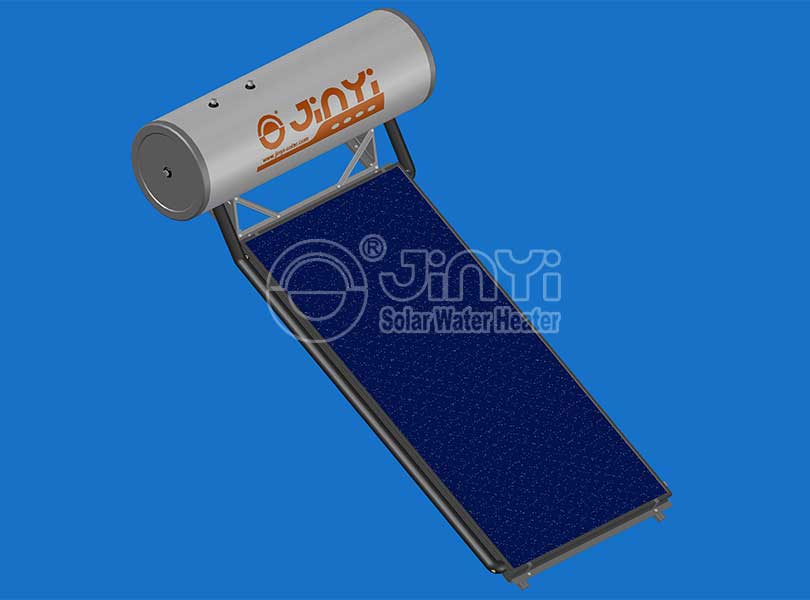 Non-pressure Flat Plate Solar Heater
Non-pressure flat plate solar water heater working principle:
Non-pressure solar water heater is such a kind of thermosiphon solar water heating device, which flat plate collector placed below high pressure hot water tank. The tank and flat plate are connected with two circulation pipes to form a open-loop solar water heating system, tank is non-pressure design, based on gravity. The whole system only use water, can't use other liquid as circulation medium. By continuously circulating in this way, the water is heated directly inside flat collector and rise to be stored inside hot water tank.
Non-pressure flat plate solar water heater characteristic:
1. Low cost, most economic among flat plate solar water heater.
2. Water tank non-pressure design, just based on the gravity.
3. Suitable for hot area, where is no frozen risk area.
4. No Glycol, No Chemicals!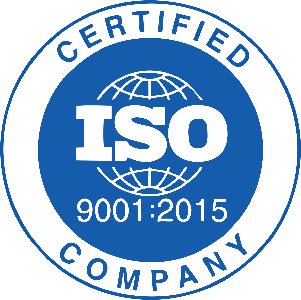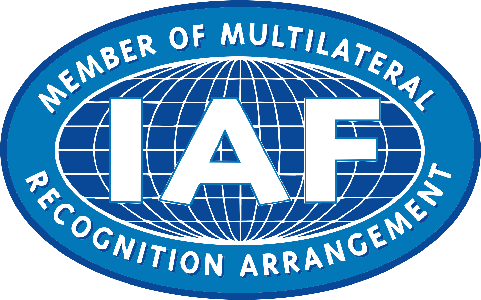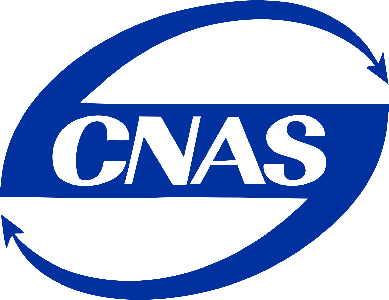 Non-pressurized Solar Water Heater Key Components: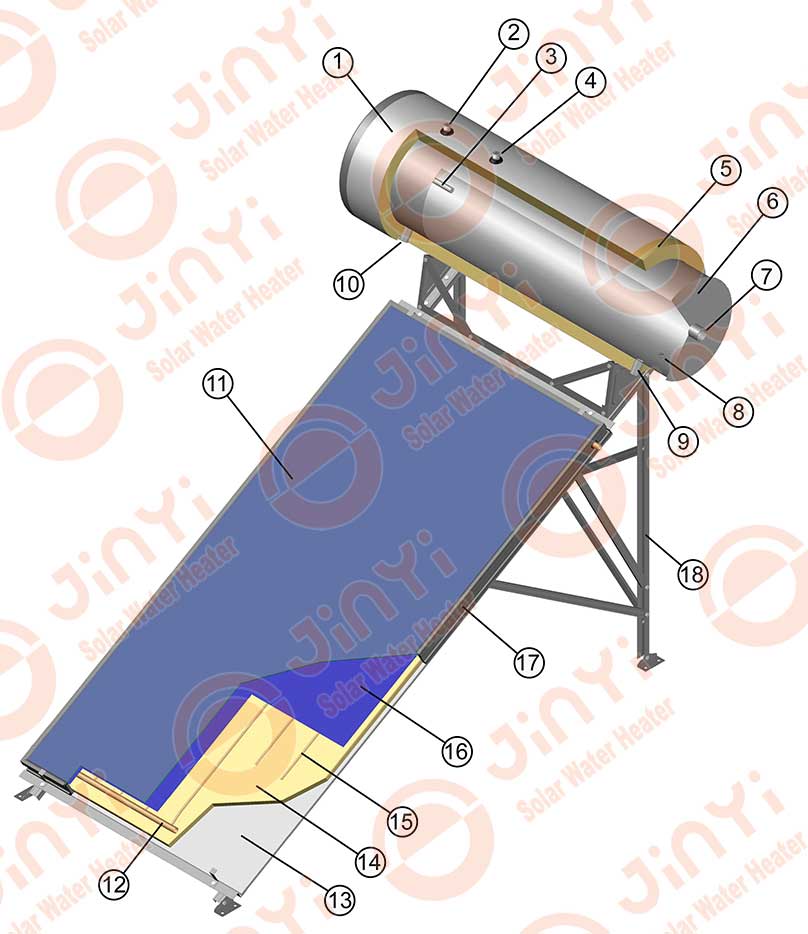 ① Outer tank ② Cold water inlet ③ Magnesium rod ④ Air vent ⑤ Insulation layer ⑥ Inner tank ⑦ Electric heater ⑧ Hot water outlet ⑨ Circulation outlet ⑩ Cold water inlet ⑪ Tempered glass ⑫ Header tube ⑬ Back sheet ⑭ Insulation layer ⑮ Riser pipe ⑯ Absorber plate ⑰ Frame ⑱ Support
Direct flat plate solar water heater specification
1. Inner tank: Stainless steel SS304-2B / SS316L.
2. Outer tank: Galvanized steel / stainless steel / PVDF.
3. Insulation layer: Polyurethane foam, 41 kg/

m

3 high density.
4. Support: Painted galvanized steel / Stainless steel.
5. Flat plate solar collector: 2
m
2
size, blue titanium coating.
6. Working pressure: non-pressure.
Parameter table:
Model

Tank capacity

Absorber Area

Person No.

Loading Qty. (set)

(L)

(m2)

20GP

40GP

40HQ

JFP-150N

150

2

3

40

85

96

JFP-250N

250

2.5

5

28

60

65

JFP-300N

300

4

6

24

52

60
Necessary Accessories:
Check valve
- Used for control one-way flow and prevent water from flowing back.
- Material: brass.

Magnesium rod

- Used for tank protection

- Φ22 x 300mm length(small)

- Φ28 x 600mm length(big)

Item No.
Size
Quantity
Item No.
Size
Quantity
812 007 002
3/4 inch
1 unit
812 801 002
4 inch, 1 inch
1 unit

Insulated pipe
- Pipe: Corrugated stainless steel
- Insulation pipe
- Connection size: 3/4 inch

Brass elbow
- Material: Brass
- Connection size: DN22 ×3/4 inch

Item No.
Size
Quantity
Item No.
Size
Quantity
812 007 054
3/4 inch
2 units
812 002 807
3/4 inch
2 units

Coupling
- Used for flat collector
- Material: Brass
- Connection size: DN22 x DN22mm

Plug
- Used for flat collector
- Material: Brass
- Connection size: DN22mm

Item No.
Size
Quantity
Item No.
Size
Quantity
812 010 004
DN22 mm
0 / 2 units
812 010 042
DN22 mm
2 units
Optional Accessories:
Thermostatic mixing valve
- Material: Nickle plated brass
- Cold water temperature: 5-29℃
- Hot water temperature: 50-95℃
- Regulating temperature: 35-55℃
- Working pressure: 0.03-1 Mpa

Electric heater

- Material: Incoloy 800

- Super anti-corrosion& heat conduction, dry-heat resistant

- Connection size: 1 inch

Item No.
Size
Quantity
Item No.
Power
Quantity
812 007 052
3/4 inch
1 unit
812 900 191
1500W, 2500W
1 unit

Controller (luxury version)

- Used for non-pressure solar heater

- Intelligent cold water loading

- Water temperature display

- Intelligent control electric heater

Controller (economic version)

- Used for non-pressure solar heater

- Intelligent cold water loading

- Water temperature display

- Intelligent control electric heater

Item No.
Voltage
Quantity
Item No.
Voltage
Quantity
812 003 501
110V/ 220V
1 unit
812 007 008
110V/ 220V
1 unit